Date: May 25, 2023
From: Joanna S.
...Fudge continues to do really well. And, even better, he is now being playful -- he bats toys around and jumps after them. This is a wonderful development for me, because even though he was doing
well before, he had no interest in playing at all. His appetite is great, virtually no vomiting (except when he eats grass), he drinks a lot of water still, and he's playing!!! I thought you might like to hear all this good news. Thank you as always for your work with Fudge!
---
Date: May 24, 2023

From: Madeline S.
I am pleased to report that Mango has not vomited since the last dosage of lycopodium around mid March. His ears have cleared up completely and his chin acne also has gone away. His behavior has become much more lively and playful; I imagine this is due to his stomach calming down.
Thank you as always for all your help and support with Mango's health. I will be in touch with any further developments!
---
Date: July 29, 2022
From: Tamara
I've been meaning to update you about Oliver. May was our last meeting...has it been that long?
I dosed him with Thuja at that time. I would say within 2 weeks lesions were healed, and no new ones appeared. I asked a groomer in my building to help me check him on June 9, and we noted nothing but healthy skin and coat. We checked armpits, ears, belly, etc. I knew if I alerted you too soon I would jinx the thing. I think it's finally safe to say we're clear of ringworm!
He continues lifelong on a raw diet. He also gets digestive aid with pre/probiotics mixed in and fish oil on the side. These are all from Aunt Jeni's Homemade. He likes a little Bragg nutritional yeast for snacking. Surprisingly he enjoys a green leaf of spinach or chard now and again. There is some Vetri DMG remaining so I'll add it to food until the bottle is empty.
Thank you for your treatment, help and guidance. For your confidence and reassurance. I had no prior experience with this sort of treatment method for myself or my pets. I am certain the result is a systematically and functionally healthier cat. Someday I'll send you a video of his aerial gymnastics, but he's too fast for me to capture.
May we meet again, but not too soon. Of course there is the aging cat to worry about.
All the best,
Tamara
---
Date: February 25, 2022

From: Marianne
So nothing but amazing news! Since the double Sepia remedy (the weekend of Feb 12/13) she has been doing really well. She's looking to eat all day long, about 4-5 small meals and snacks, happy to go for walks and playing with her little sis in-between nap time. She's also barking quite a bit again which she had stopped for awhile. She hasn't had any tummy issues at all. Everyday I wonder if today will be as good as yesterday and so far so good. She's drinking a little water on her own but mostly I supplement her plus put it in her food which she laps up. (She likes the broth the turkey tail makes) I only have about 11 days of the Gluca Mune left if you still want her to be on that. I have plenty of the turkey tail powder and B12. I may bring her over to Village Vet to put her on their scale. I'm very curious about her weight since she's eating so well, she definitely heavier.
Thank you!

---
Date: November 11, 2021

From: Erica
Hey Dr. I wanted to send you picture of cricket before she came to you and
after. It's amazing they large tumor went from cantaloupe size to tennis
ball. Actually smaller then picture shows. The cancerous lump on her
shoulder blade is now the size of a quarter. She is stable and well.
Attached are pics below. Thank you for opening my eyes to real medicine.

---
Date: August 23, 2021

From: Debra Mendelson
We haven't had need to speak in about six months as Dino is now a happy,
healthy little guy thanks to you!!! You won't believe the change in his
disposition! 😊

---
Date: August 11, 2021

From: Aly
My 11 week old puppy was having significant discomfort with a UTI (per a different vet) and was unable to get relief after numerous treatments. Multiple tests were run and we were basically told there was nothing more they could do. A friend recommended Dr Dym to me and I emailed him immediately. He was generous enough to work us in the same day and get us started on a homeopathic treatment plan immediately. He took his time learning about us and our puppy and was incredibly thorough in his consultation. He assured me he would do everything he could to help us and I could tell he genuinely meant it! After the first dose we saw significant improvement however Dr Dym continued to monitor symptoms for another day and after switching us to one more remedy, our puppy's symptoms disappeared almost immediately.
He is now back to 110%! We are speechless and cannot express our thankfulness and appreciation to Dr. Dym for his time and thoroughness in getting our pup comfortable so quickly!
---
Date: July 6, 2021

From: Sophia
Hi Dr. Dym,

It has been two weeks since Elsie took pulsatilla. She is noticeably more
vibrant, energetic, and her morning grogginess seems to have completely
resolved completely. As I write this, she is independently playing with her
treat dispensing toy. She responds incredibly well to homeopathy. I am so
glad we are starting her on homeopathy at a young age while she is healthy.
Elsie's personality today is similar to when she was a very young puppy.

Thank you a million times! You are Elsie's angel!

Sincerely,
Sophia

---
Date: June 3, 2021
From: Diane
I just want to tell you that I have struggled so much in getting a holistic vet. I had tried not one, but seven Canadian holistic vets and was unable to get an appointment with any of them. I was willing to travel 5 hours and even then could not get an appointment as she only works 3 days a week
and definitely not on a weekend. I had quite given up when I heard of you. You have no idea what it means to me that you responded to my email AND fitted me in so fast. I have told everyone about you. My man runs a small aluminum business and I have taken over the admin side of things. I
always send quotes the same day as requested and he thinks that I am too fast. But he gets 97% of jobs quoted. I told him about you and said that it is always the details that make people remember you. Whether we get my Zeba cured or not, I will always remember your willingness.

Warm Regards,

Diane

---
Date: June 1, 2021
From: Stephanie Vriniotis
Hello Dr. Dym,
Hope you had a nice weekend. I just wanted to update you on Luna's condition... she's amazing! Back to her old self and better. She's eating well and everything seems so much better. She is even playing with her toys again which she hadn't been in months.

I just want to thank you from the bottom of my ♥️ You saved her life. I'm so glad I found you.
Thank you so much.

---
Date: November 6, 2020
From: Beata Then and Maciek Majewski

Good Afternoon Doctor,

I'm forwarding to you our cat's last blood tests results, from less than a
week before he died. Just for you to see how great all you treatments were
working.

Maybe you will also find it useful to know that his first seizure on the
day he died was - unlike all before and after that - like whirling or
spinning around. Very fast, on his side, only in one direction. I didn't
see it, my husband did and still can't forget it. About half an hour after
that came the one that I saw a few weeks earlier, and then a few similar
but smaller ones.

You might laugh but we contacted an animal communicator (recommended by
Anitra). Willy told her he had no pain on that day, only was a little
tired. And right before this whirling around he felt a slight headache on
the left side and a little tension on the left side of the brain.

We have many proofs that she really talked to him so if you ever need this
kind of help I can truly recommend her: Samantha Khury (samanthakhury.com).

For the last time Doctor thank you with all our hearts for the two
beautiful and happy years of Willy's life that you gave him and us,

Beata Then
and Maciek Majewski

---
Date: September 19, 2020
From Margo:
Hello again Dr. Dym,
Moonshine the Catahoula has survived well past her dire prognosis with
stage 3 oral melanoma in July 2019! She is continuing to receive
immunotherapy vaccine every 6 months, she just had one in August, and thus
far her lungs look great. Aside from that therapy I attribute her success
in large part to your guidance on nutrition. You have changed forever how I
will feed any dog in my future!

I hope you are well and weathering the pandemic. I noticed my last e-mail
to you was just a week prior to the real recognition of the virus and it's
arrival!

---
Date: March 20, 2020
From Betsy:
Rylie has been doing very well and I want you to know I continue to be sincerely grateful to you!!! Without you and your wisdom and experience, he wouldn't likely be here!! And I wouldn't be as confident in caring for him. I am forever grateful to Michael Dym for being someone who truly cares about my pet and does what he can to treat them in ways out of the norm for vets. He doesn't simply follow outdated models that simply are treating or preventing symptoms ~ he gets to the root of issues and helps heal animals with ways that don't create more issues.
---
Date: Sep 17, 2019

From Alexandra:
Back in May 2019 I reached out to Dr.Dym regarding my dog Coco's declining health. He responded promptly and scheduled a phone consultation the following day. He spent about an hour going over Coco's symptoms and provided me with a comprehensive regimen including homeopathic remedies. He provided me with detail instruction of how to use each and every remedy. Coco has showed vast improvement under Dr. Dym. She is living her best life and enjoying each day.

---
Date: Sep 04, 2019
From Joyce:
★★★★★
Our dog Aja suddenly started having neurological issues one night after being at dog daycare, we were beside ourselves trying to figure out what was going on. I took her to her local vet where it was seemingly a physical injury in her neck and she applied acupressure. It helped a lot so we thought it was the right diagnosis until she tripped running on the beach and presented more neurological signs. I then contacted Dr Dym for a consultation. On the intake, he commented that her symptoms presented as vaccinosis that we couldn't believe possible until we remembered there was a dog brought to the daycare that day that just had 5 vaccines!!! She was affected by the shed off of them in a near horrific way. Dr Dym saved her life! He knew exactly what to do to help her and that it did. We are forever grateful for his skill and knowledge therefore highly recommend contacting Dr Dym if you ever have ANY health issue with your pets, you will be glad you did.
We cannot thank you enough, Michael!
---
Date: Aug 06, 2019
From Sheila:
★★★★★
Gratitude and 5 Stars are still not enough to express how lucky Muffin, my cat, is to be under Dr. Dym's care. She was given a death sentence 3 years ago by an expert vet in Brooklyn. Thank goodness a friend told me about Dr. Dym. He saved her life and continues to keep her healthy at 15 years old and counting!
---
Date: Mon, 24 June 2019
From Samantha:
Dr. Dym has taken phenomenal care of my twelve-year-old cat Herman throughout his life. He has done more for my cat through consultations over the phone than any vet who has worked with him in person. I first reached out to Dr. Dym when my cat was struggling to urinate due to crystals in his
urine, upper respiratory issues, and unusual behaviors such as running is circles and panting. Dr. Dym quickly helped me resolve Herman's presenting issues holistically, and in the process identified and treated the underlying issues that were systematically overlooked by allopathic veterinarians. Whenever Herman has been sick or has presented with unusual behavior, I have always been able to count on Dr. Dym to prescribe a remedy that would resolve the issue. Friends and family who were initially skeptical about my decision to treat Herman homeopathically were amazed to see what a difference it made in my cat's overall health and wellbeing.
About a year ago, an echocardiogram revealed that Herman had advanced heart disease. Dr. Dym was able to prescribe a series of remedies and herbal supplements that have improved his functioning tremendously in conjunction with minimal allopathic medicine. When Herman had a stroke due to a blood clot to his leg seven months ago, it seemed that he might not make it. He
suffered severe, acute renal failure, heart failure, and lost function in his hind legs. Against remarkable odds, Herman regained function in his legs, his heart recovered, and his kidney values have improved as well.

Dr. Dym was able to coach me through my communications with the allopathic vets in the emergency room, and worked with them to bring Herman back to health through homeopathic remedies, herbal substances, weekly B12 shots, and minimal allopathic medicine. Presently, Herman's health is the best that one can reasonably hope for. After his stroke, he went from barely
touching his food to eating his meals in their entirety and begging for more, all thanks to Dr. Dym's guidance and care. Herman lives a beautiful life, completely unaware that he is sick. The way his health has improved is objectively remarkable, and I can't thank Dr. Dym enough for keeping him
healthy through the years and in his darkest hours.

---
Date: Sun, 03 May 2015

Hi Doctor Dym,
Great news on the Esmeralda front ! Since giving her the Homeopathic remedy (Lycopodium)… she's been dramatically improved. The first day, she stayed inside with me for a good long while, sleeping next to my computer and desk lamp, just like she used to do in the past. And she did not leak any urine. This not leaking urine has continued now for about 4 days. What a miraculous turn around ! I'm able to let her inside and she does not leak ! Thank goodness !
****************************************************************************************************************************
Update on Esmeralda: Mon, 04May 2015
Wow ! She's like her old self again. Herself from a while ago. She jumped up on the bed today and wanted to play. So I tossed her a fake mouse, and she knocked it around and pounced on it. Just like she used to do ! And last night, she slept on the pillow above my head. No leaks. It's kind of miraculous so far. She is doing a lot of grooming. And the first 2 days, I think she threw up her breakfast. But that's not happening now.
Thanks so much!
Richie Kessler

From: Lisa Avery - via Facebook March 1, 2015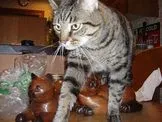 This is Rascal a/k/a Rascalman. He is a beautiful, gentle, curious, affectionate, splendid man. In August of 2013 he was diagnosed with hypertrophic cardiomyopathy and given six months to live. Since that time he has faced a number of crises and Dr. Dym has pulled him out of them each time. Most recently, Rascal would not get out of bed at all or move. His respiration was up to 55! I really thought we were going to lose him. I followed Dr. Dym's instructions and gave the homeopathic remedies he prescribed in the precise manner he suggested. In the exact time frame Dr. Michael Dym, VMD suggested, Rascal popped back to normalcy. His respiration went down to 28 and he started to run up and down the steps and jumping up onto tables and was back to his usual level of mayhem. I know that Rascal still has a diseased heart and that someday we will lose him but right now his quality of life is great. And he has been with us for much longer because of the great skill and talent of Dr. Michael Dym. Thank you!
---
Hi Michael, January 8, 2015
Thanks for the invite. I am out in Utah and sorry I won't be able to join the group. I am still astonished at Yoshi's miraculous response to the AA in December. I never thought Yoshi would make it past that dark and gloomy weekend as his breathing was so labored and his disposition was completely resigned and already checking out of this earth plane. Lynn had a horrible dilemma to face as well, stay with Yoshi his last days here and miss sharing the Holidays with her family in Pennsylvania which she planned long ago, as her Mom is also rapidly drifting away into Alzheimers and Lynn feared this could be the last Holidays of connection with her. She was truly torn as either option would be so much heartbreak. Right before our eyes on Sunday afternoon through Monday morning Yoshi's Chi began to build again. 8AM Monday morning still undecided, I suggested there is only 1 choice that will bring peace. Bring Yoshi with you to PA and get on the flight with the chins this morning. Without going into detail which is a an amazing screenplay in itself, within the next 4 hours, 2 Japanese Chins were onboard a US Airways flight to Philadelphia, Lynn was a nervous emotional wreck and I was driving home from FLL in total disbelief that a miracle was unfolding before my eyes. Lynn spent the Holidays with ALL her family, 8 paws included, and it was the ultimate gift that you could have ever offered Yoshi, Nikko, Lynn, her family and myself. We all thank you from the bottom of our hearts, and you know how bit Yoshi's heart is, for being there for him and us. You have been such a blessing for so many pets and natures creatures and have affected so many other lives because of your commitment and compassion and perseverance to those that show up for you. Thank you Michael. Words can hardly express our true gratitude. Namaste.

Gene


Scooter -Before

To: Dr. Dym
From: Amy Burke
Date: 12/23/2014
When I met Scooter this summer she was living under a pallet behind a pizza restaurant. She had black nose goo stuck to her face and her eyes were oozing green stuff. One eye was swollen almost shut and she had ear
mites. She looked about six weeks old. I took her home and put her in my bathroom. Two years ago I would have wormed her and started her on an antibiotic, but I don't do that anymore. Instead, I called Dr. Dym. He prescribed a homeopathic remedy and recommended a raw diet and supplements for immune support. I treated her eyes and nose with a solution of salt water, goldenseal, and eyebright. I used Dr. Pitcairn's protocol for the ear mites.
She began to look better right away, but the discharge from her nose and eyes persisted. When she was about eight weeks old she tested positive for the feline leukemia virus. Dr. Dym recommended supplements for immune support and encouraged me to be patient. The weeks that followed were difficult. Scooter had to be kept away from the other cats, and she was by herself a lot of the time. She refused to eat from a plate so I had to bottle feed her several times a day. I spoke with Dr. Dym every couple of weeks to touch base on her progress. Her energy level was excellent, which he said is an important indicator of her general health. She was playing hard and growing. After four months she finally agreed to eat off a plate, and two weeks later she tested negative for the leukemia virus. This was Independence Day for Scooter. Imagine the joy I felt when she walked out of her carrier and greeted my other cats. She played nonstop for the next ten hours. Conventional treatments like antibiotics provide a quick fix, but while they clear up the symptoms of illness they can drive the disease deeper into the body. I saw this happen two years ago in another kitten, Francis, who had an upper respiratory infection. The antibiotic I gave him stopped his sneezing and dried up his runny nose, but after five days he developed a fever of 104 and stopped eating. Conventional medicine could offer no explanation for the fever so I called Dr. Dym. It took a huge leap of faith to discontinue the antibiotic and trust in this "alternative" approach to healing. I was afraid that if I stopped the medication his fever would go up to 106 and he would die, but this didn't happen. Instead, Francis got better. It took a high concentration of the remedy to undo ten days of antibiotic, but after six days of homeopathic therapy he was running around again and eating like a champ. Scooter has never had an antibiotic or any other conventional medicine. She has not had a wormer, vaccine, or flea treatment. She eats only the raw diet, and she is thriving. She tears around the house like a maniac, making up for lost time by playing twice as hard as everybody else in the house. My conversion to alternative medicine took a while. Change is scary, and natural healing requires trust and patience. I have learned to call Dr. Dym first when one of my animals is sick. He has saved me thousands in costly conventional treatments and his results are truly remarkable. I hate to think what would have happened to Scooter if we had followed a different path. Today, thanks to Dr. Dym, she is a busy, happy baby with a bright future.

Amy Burke
---
Scooter -Today

Subject: Sammy Verbrigghe
Date: Sat, 20 Dec 2014
Sammy is doing AWESOME! He chased a few tennis balls yesterday, still has a great appetite and his energy is improving daily. He is even back to carrying 2 tennis balls in his mouth. I have been following your instructions to the letter. I will get another blood draw next week . I do have a question-Should I continue with the grapeseed extract or discontinue and start the Vetri Science Cell Advance or use both?
I am forever grateful for all you have done to improve Sammy's quality of life with only natural and healing remedies.
Chris Verbrigghe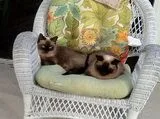 Subject: Mindy
Date: Thu, 18 Dec 2014
Mindy is feeling so much better. I don't know if the Pulsitilla pellets or the B12 injection cured her? I also have been feeding both cats PetGuard Turkey & Rice, plus NuCat vitamins. Mindy is not vomiting, her appetite increased, she is asking for food, and playing. Let's pray that she continues
to feel well.
Thank you.
Susan Rotmen
---

Hello Dr. Dym, 12/26/2013
I only gave Dolly one dose of the pulsatilla because there appeared to be a huge difference in the amount of peeing. She is doing great right now, I can't believe it!
Should I continue the mannose?
Thanks,
Jessica Evans

Hi Dr. Dym, 12/25/2013
I just wanted to let you know that Romeo started feeling much better about an hour after taking the first Belladonna dose. He stopped grooming his genitals and slept. I gave him the 3 doses 4 hours apart as you suggested and he is urinating normally in the litter box this evening -- with a good flow. He has stopped the pacing and vocalizing and is back to his normal sweet teddy bear self. What a relief. I can't stand to see him suffer. You truly did save Christmas!
Kristin Lang

Hey Dr. Dym, 12/11/2013
I just wanted to let you know the Calc Carb is working like a charm for both Maya and Romeo. Romeo is less restless, he has a much improved stream of urine today and he does not hesitate before going into the litter box. He has not picked a single fight with Maya all day. Also Maya's symptoms are dramatically improved. She is no longer being anti-social, she slept in my room through the night last night. That is the first time she has ever done that. Usually she won't stay in my room with the other two cats in there. She is in my room downstairs sleeping again right now. What an improvement, she is no longer a loner hanging out upstairs. Also her coat does not feel oily anymore. I am going to pick up her B-12 shots tmro, I'm sure those will help her continue to improve.

Best -- Kristin

Hi Dr Dym ! 12 Oct 2013
I never got a chance to thank you. Back in June you treated our Chihuahua Snickers who had a herniated disc and couldn't walk. We were told he may not recover and could become paralyzed. The same night after starting his remedy he had almost immediate improvement and steadily got better. I know you saved our dog.

Thank you both so much!
Michelle Miller

Dear Dr. Dym, 10/9/2013
I wanted to share with you the fantastic progress of our cat, Milo. He is doing really well, he's healthy and energetic and most days he is up rather than down. We feel so happy with this amazing recovery from his near-fatal kidney crash in April.

I also wanted to share the results of Milo's latest tests. We have been sticking to the raw food diet and the Standard Process supplement, and his blood test results are now back within the normal range (from CREA of 11.1mg). I know these aren't the most important indicator of his condition, but they have also convinced our local consultant vet to support us in our choice to feed Milo the raw diet and treat him homeopathically. So we're very content.

Thanks so much for your work. We appreciated your support and help on this.

Regards
~ Melody Nixon
Dear Dr. Dym, July 16, 2013
Wow! Woody is so much better. It is a bit hard to believe, but the evidence is there. I gave him one Pulsatilla pellet last night, and one teaspoon of slippery elm syrup (recipe from Anitra's book). This morning his food bowl was empty, he was in the kitchen waiting for me, looking much more bright eyed and alert. I did not give him another Pulsatilla pellet. I again give him slippery elm syrup and when I got home from work he was waiting at the door for me, just like he always did and he ate all of his food. I did not get to speak with Anitra yesterday as she is suffering from bronchitis/laryngitis. Our plan is to reschedule. I am just giving Woody the same food for now. On our initial brief conversation she did mention frozen raw cat food, so I will inquire more about that as there are many brands on the internet. I can't thank you enough for your thorough inquiry of Woody. I very much enjoyed speaking with you and feel very confident that with your guidance Woody will be better than ever. I would like you to send me the products from Standard Process for the enteric, hepatic and immune support. I am also interested in the protandim and will call about it Friday or Saturday. I feel very fortunate that I was introduced to you and feel that you are very gifted.

With gratitude,

Lisa Zamfino


Dr. Dym words cannot express how kind you were to me after my getting the run around by a world famous pet nutritionist and homeopath. I was told my dog was having seizures and both my husband and I thought it was the fleas, and even after videotaping and sending the videotape to this person, she still yet insisted it was brain damage. She would not let me treat for fleas even though my dogs' flea problem was keeping her and us up all night long" The other homeopath said I couldn't treat for fleas and that when my dog was healthy enough, fleas would not be attracted to her. Anyway, you were a calm, strong force for use and you directed me to an amazing holistic flea product, and I appreciate that. Less than a week her supposed seizure issue no longer existed and she was flea free and all of us were sleeping through the night." We were all so upset and frustrated. I was giving her oatmeal baths daily to drown the fleas, but, it only helped minimally. The good news was she finally referred to me, so I am eternally grateful she knew she couldn't help us!

Thank You,
Susan Allen


---
Letter to the Memphis Health & Fitness Magazine -
Hi Hailey,
My husband and I moved to Germantown,TN from NJ 20 months ago and enjoy your publication.
I have a great story about my 4 year old Siamese cat Frankie, who we thought we were going to put down last fall. He was continually lethargic and could barely use his back legs to walk. I went to two local practices where they ran many tests and all they could tell me is that he had non-erosive poly arthritis and needed to be on immune suppressors. The immune suppressors were doing NOTHING for our cat, so I contacted Dr. Michael Dym (drdym.com), a holistic vet out of FL who also does phone consults. I started working with Dr. Dym in mid-November and by mid-January our cat was back to his old self 100%! He is taking natural supplements and had three holistic remedies, the last one for appetite which we administered on Dec. 31. Needless to say my husband and I are thrilled with Dr. Dym and would like to spread the word about holistic vets. Dr. Dym is a follower of Dr. Richard Pitcairn, who has written a number of books on the subject. Actually there was just a big holistic veterinary conference in Arizona last week.
I look forward to hearing from you. (Also find me on Linked In - Nancy Milligan Fain)
All best,
Nancy Fain
HI Dr. Dym,
Wow. Thank you so much for all of the support. Betty's message and your response to her make so much sense to me!!! What Betty says about the presence of the practitioner tainting the process - that's what it feels like. And when you talk about how one negative energy field can enter into another energy field -- especially one that is temporarily weakened by struggle --- that's also what it feels like. I think my rational mind has been telling me to stay with Nikki because she is so well regarded, so great at what she does, but my energy/ intuition has been telling me that "something is not right here." I shouldn't feel worse after hanging up the phone, especially not on a regular basis.

I have said this to you before, but one of the things I am so grateful to you for is the way you bring such positive, curing energy into your work with me and my animals. Even in the most serious medical crises, you have always had a way of helping me remained calm and positive. Since homeopathy is energy medicine, of course my energy as Guardian and your energy as Doctor will affect my animals as I give them your prescribed treatment. You have given us the gift of your light, healing energy and have taught me to bring the same to my animals in working to heal them. I will never forget when the conventional vet told me Mango had lymphoma and I felt so devastated. You told me that Mango did not know he had been labeled as having lymphoma, and that I should try and forget it too. I realized that the worst thing I could do would be to start seeing Mango through the veil of a diagnosis. What a betrayal that would have been. Your advice to forget the label and just keep relating to him as an individual was a great gift to us both, and one of the many, many instances in which you have shown me the true meaning of holistic healing.

You have also been a great teacher to me, because working with you necessitates my actively paying attention to my animals. You have also taught me to recognize and work more skillfully with fear as it arises in connection with their illnesses, to resist the urge to label and reduce, and to recognize the role my own mindset has on my animals' well being.

Furthermore, your teachings on physical suppression have shown me that it is not just our physical symptoms conventional medicine and our culture as a whole tries to suppress, it is discomfort on any level. We live in a culture that encourages suppression of our beings physically, emotionally, and spiritually. It is a radical act to begin turning away from all the quick fixes toward genuine healing.

So as the animals and I continue our work with you, I find that I am healing along with them...

Anyway, I just wanted to share those thoughts with you.

Thank you again,
Abra

Dear Dr. Dym,
My name is Lora Korman (maiden name: Wakefield). I brought my White Shepherd-Lab mix, Calvin to you in 1998 after he was diagnosed with a mass cell tumor on his rear lower leg. You treated him for several months and encouraged the raw diet that I had put him on. In 1999 I moved to north Jersey and had to change Veterinarians, but never found anyone that compared to you.

I had to write (with tears streaming down my face) to thank you for helping my dearest friend and loyal companion 10 years ago. I have always believed that your treatments and knowledge saved Calvin. This past Friday, I had to put dear Calvin to sleep at the age of 14.

I will always be grateful to you.

May God Bless You,

Lora S. Korman

Dear Dr. Dym,
I wanted to thank you from the bottom of my heart for responding to me when I was in so much need of consolation and advice on my sick little dog. With much trepidation and serious concern in making the right decision, I ended up taking her to a holistic vet out here recommended by Jean Dodd. I decided I would feel more comfortable taking her in to someone that could actually examine her and work directly with us. I was so torn in making that decision, especially after having reviewed some of the info you sent me and knowing that you have helped so many. Judy Schor who has been an unbelievable source of comfort to me, spoke so highly of you and your work. Thanks so much for referring me to her, she is a beautiful human being.

Kaiya is still with us and despite her extreme weight loss and inability to walk, she is eating like a horse and has a will of iron. Every time I think I have the courage to say good bye to her she decides she's not quite ready to go. Most of the tests she has had, have come up negative and so auto- immune is still the strong factor regarding her condition. The only other thing I'm afraid she could be sick from is the Rimadyl she was given early on a few weeks ago when she had a minor, occasional limp. I've read it can effect the liver and cause muscular degeneration, (which I know is rare, but until she went on that medicine, against my better judgment, she displayed no real signs of sickness) Her liver is severely compromised and her muscles are atrophying. It is so disconcerting to think that she might be one of a million that this could happen to.

So, I'm holding on, losing weight myself and very tired from being a round the clock nurse. It is all worth it, of course. I only have a glimpse of what it must be like for others with a chronically or critically ill family member. It makes me grateful and appreciative, of how lucky I've been.

I will always remember your kindness and the time you took to help us. I can't thank you enough. I hope I can give you good news the next time I write.
My best to you and yours,
Alex Wood

Hello Dr. Dym,
I met with you last June at Natur-Tyme health food store in Syracuse, NY. I have a wire-haired fox terrier who had a variety of illnesses - gi problems: colitis, uti, and skin problems. Your advice was to change her food (we use Pet Guard) and add pro-biotics and digestive enzymes to her diet. The results have been excellent! Coconut has been very healthy since implementing your suggestions.

I also went back to my Pitcairn book and have switched her flea control to brewer's yeast and eucalyptus oil. My younger son has autism, and is recovering since we addressed his gut issues and took steps to detox him, so it made sense to boost Coconut's immune system and limit her exposure to toxins, as well.

I just wanted to thank you for your time and great advice!

Marilyn Jeffery

Gracie is at least 90% recovered. Still has some moments of inverted U posture but not much and not as pronounced. Licks her genital area but not as much-no sign of discharge. Hardly any gulping anymore though licks her lips very occasionally.

Most important, in terms of a change, is the return of her energy. When we come home, instead of finding her asleep she is up and wants to play. The other night she played on and off for over two hours. Chasing her sister around, running up the cat tree etc. Eating very well, no vomiting. Still haven't seen a bowel movement in a few days.

All in all, she is so very much better. Almost hard to believe because she was so ill but, as I said, you're the man, Dr.. Dym. I suspect you've given up a lot in earning potential to do what you do. All the big bucks that come from endless procedures, tests, and medications is something you have walked away from.

But what you are is a real healer.

Thanks so much.
Jane

Thanks, Dr Dym, for the lovely e-mail. I truly appreciate all your help with all my cats over all these years. It has been such a learning experience for me to understand the homeopathic approach to healing. At times, it can be trying since there is so much pressure from the vets, even the "so-called holistic ones". But I have seen such dramatic results in my cats, and am happy that they do not have to endure the awful side effects from drugs. It is amazing that if you allow the remedies time to heal the body, you can see how the body heals itself. You have been enlightening and motivating, and I couldn't find a more honest and caring vet that I trust with my cats' health, and I have met so many!! Thanks for all your time and patience, especially with all my questions.

Teresa Pendergast
---
Please, if you have an ailing pet – which probably you do as you're reading this – don't hesitate. Give him/her a chance to survive even if a conventional vet tells you there is no hope. It was exactly my case. And then I contacted Dr Dym…
My sweet 13 y old cat was actually dying from severe kidney failure. His bloodwork results – creatinine 17 (normal up to 4), phosphorus 14,5 (normal up to 2,4), urea nitrogen 170 (normal up to 36) – were so terribly bad that a conventional vet was sure he would die within a few days.
I knew allopathic medicine couldn't help him and I knew Dr Dym is probably the best homeopathic vet in the USA. I was right! Now, after 10 months of receiving homeopathic remedies and other natural supplements, my cat acts like a teenager happily running and jumping around the house and always looking for new ways to play. His lab tests results are almost normal which the doctor achieved without ANY harmful and toxic allopathic drugs!
Small homeopathic pellets that Dr Dym prescribes after a detailed phone interview work miracles. I admire not only knowledge of the vet but also his incredible intuition which – I'm sure – helps him choose the best remedy without even seeing the patient. He is sensitive and compassionate but also very honest – if I do something wrong he tells me. We work as a team in my cat's best interest.
Of course I know my cat will die at some point but right now I don't even see it coming. He enjoys life again and I only remember he's sick because he needs subcutaneous hydration every day. Thank you Doctor for saving his life!
Always grateful
Beata Then and Willly
---
We adopted our Bichon Frise 3 days after she turned 11 in 2014. During her first 10 years, she had 5 surgeries for Bladder Stones and she was having elevated liver values. She was on a prescription food for liver disease. I was reading the ingredients on the back of the can and could not even pronounce the words! That's where I researched and found Dr. Michael Dym. He has been Brandi & Mushu's Vet for 4 yrs now. We changed their diet to a raw diet and got her off the prescription cans that did nothing to help her issues. Dr. Dym has helped Brandi so many times when I thought she was almost gone. I am a firm believer in Holistic Medicine. Dr. Dym is one of the best!
Teri Patterson